RNC appears to have shelled out $150K for Palin fashion

The Republican National Committee appears to have spent more than $150,000 to clothe and accessorize vice presidential candidate Sarah Palin and her family since her surprise pick by John McCain in late August.

According to financial disclosure records, the accessorizing began in early September and included bills from Saks Fifth Avenue in St. Louis and New York for a combined $49,425.74.

The records also document a couple of big-time shopping trips to Neiman Marcus in Minneapolis, including one $75,062.63 spree in early September.

The RNC also spent $4,716.49 on hair and makeup through September after reporting no such costs in August.
Not so much really, when you figure Cindy McCain spends that on one outfit. But while looking for this story, I ran across this gem:

Republican vice-presidential candidate Sarah Palin's style is exceptionally ordinary. Nothing about it connotes authority. No detail announces that she is in charge. And that's what makes it so powerful.

[…]

Palin's clothes are common. Everyone knows someone who dresses like her, which is partly why so many folks seem to think that they know her.
Ouch. Maybe they should have stayed with bargain stores for country come to town.
Update: And the hits keep coming. TPM reports the AP has learned the welfare queen charged her children's travel expenses to the state of Alaska.
Update 2: Via Paula. It's little Piper Palin and her $790 designer handbag.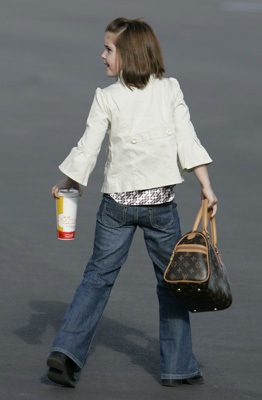 If you enjoyed this article, please consider sharing it!