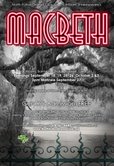 "NFDC closes their 2009 season with a decidedly different take on William Shakespeare's Macbeth. This Scotland feels like Louisiana in the 1930s. Its inhabitants conspire and carry-on with the occasional Southern drawl, their movements directed by revenge or dictated by voodoo. All these pieces fall into place to a rhythm born of the early blues. "Be bloody, bold and resolute," cries an apparition in Act IV, and NFDC can imagine no better advice for tackling one of Shakespeare's most challenging tragedies."
The show opens this Friday on the lawn of historic Barrington Hall in Roswell. General admission is Free. Please see NFDC for more information.
If you enjoyed this article, please consider sharing it!