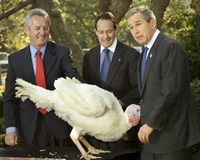 For those of you who are fans of "Stupid Pet Tricks" on the Letterman show, I thought it would be fun to call this little blog space "Stupid Candidate Tricks".
Our first contestant is World Wrestling Entertainment millionaire Linda McMahon (R), who is running for the U.S. Senate in Connecticut, owns a 47-foot sport yacht named "Sexy Bitch," according to the Stamford Advocate. Ok, you clicked on that picture right…anyone think she's sexy?
Two words… John Edwards
Which Georgia GOP candidate, with more campaign drama than an episode of The Jersey Shore, said this?
"We are here to empower and ignite the second Revolution for God-ordained, individual Life and Liberty here at home in Georgia. Your future and your liberty await"
If you guessed Ray McBerry, you'd be right.
Extra credit goes to the Carly Fiorina's recent crazy video hit on Sen. Barbara Boxer called Hot Air the Movie.
You got examples? I'm sure we'd love to read them in the comments!
If you enjoyed this article, please consider sharing it!