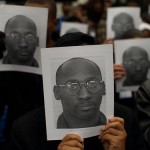 On June 23rd, Troy Davis will finally get an evidentiary hearing on his  habeas corpus petition down in the U.S. District Court for the Southern District of Georgia in Savannah.  (If you are wondering "who the heck is this Davis guy?" right now, first slap yourself hard for being uninformed, and second, read here.)  So why is this hearing so important? Essentially, the District Court will hear testimony and review evidence to decide whether Davis can establish that he is actually innocent of the murder for which he was convicted and sentenced to die 19 years ago.   This is the "second chance in open court" that Davis' supporters and death penalty opponents have been asking for all these years, and despite the many twists and turns and trips to the brink and back that Davis' case has taken so far, it is FINALLY going to happen.
One interesting wrinkle,  at least for constitutional nerds like me, is determining exactly how this hearing will work.  When SCOTUS granted the hearing last summer, it was surprising because direct habeas petitions to the Supreme Court are rarely filed and virtually never granted.  In fact, Amnesty International held a conference call today in advance of the evidentiary hearing, in which a constitutional law professor was asked numerous procedural questions she could not answer, because nobody is really sure how the court will conduct this hearing since it has never been done before.
Davis' attorneys are facing a daunting task, since the legal standard for a habeas petition asserting actual innocence is, essentially, proof of innocence beyond a reasonable doubt.  It's much like trying to prove a negative–showing that there is no conceivable set of facts under which Davis could have committed the murder, so there was no legal or factual basis to support his conviction.  If there was sufficient evidence or testimony, even if flimsy, that jurors could reach the conclusion of Davis' guilt beyond a reasonable doubt, then the conviction will stand.
What this means in practical terms is that if one recanting witness doesn't show up or testifies differently than in their sworn statements contradicting their trial testimony, or if the prosecution presents compelling evidence from others who testified at the original trial, or if for any reason the judge is not convinced that the recantations completely and totally eviscerate the basis for the conviction, Davis will likely lose his habeas petition and will still be condemned to die.  As you might expect, while guilt beyond a reasonable doubt may not be such a high hurdle in the hands of a bloodthirsty jury, innocence beyond a reasonable doubt in the eyes of a judge is probably a VERY high hurdle indeed.
Attorney General Thurbert Baker's office will be representing the state in the hearing, and it is not clear just how hard they will fight to keep the conviction.  Baker could see some political benefit to either hanging tough on the death penalty or helping out the cause celebre of Davis.  The AG's office has the choice of presenting their own evidence and testimony at the hearing or simply relying on the original trial record and arguing that Davis has not sustained his burden.  The latter approach would likely be the smart route for Baker to take, but that's far from certain.
What is almost certain is the flurry of  new appeals to be generated following hearing regardless of the outcome.  Both Davis' attorneys and the state will have strong incentive to fight over whether it was conducted correctly and whether the proper standards were applied correctly, if they lose.  There remains the undecided legal issue at the ultimate root of this case, and one that Justice Scalia alluded to in his dissent from the Court's order granting the evidentiary hearing–whether an innocent man has a constitutional right not to be executed.  That would seem pretty obvious, but there are decisions that suggest if a defendant has had a legally and constitutionally conducted trial and appeals process, and happens to remain convicted and sentenced to die at the end of that process, then he has had all that his constitutional rights afford him and to execute him will not violate his rights. I hope that ridiculous argument will never become the rule of law in this country, but with our current Court…who knows.
Davis' team has been pretty good about conjuring up a few miracles when they need them most, so here's to hoping they can pull off their biggest one yet next week.
If you enjoyed this article, please consider sharing it!