Johnny Isakson: Can't Be Bothered With Us Common Folk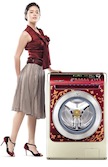 For those of us back home in Georgia, Johnny Isakson apparently not only thinks we are " unwashed", we also don't deserve a helping hand in a tough economy. Maybe someone should tell him that when you're "unwashed" and out of work, you still have to provide proof that you are looking for work and even enroll in classes teaching you how to interview and get a job to even get unemployment benefits in our state.  Thanks Johnny, from this "unwashed" Georgian who'd like to kick your ass in the 2010 Election.
Press release from DPG on Isakson's comments below the fold.
FOR IMMEDIATE RELEASE: Friday, June 18, 2010
Contact: Eric Gray, Communications Director
Democratic Party of Georgia
(678) 278-2108
Sen. Johnny Isakson Rejects
Unemployment Benefits for "Unwashed"
Washington D.C. – Yesterday, Senator Johnny Isakson voted to reject unemployment benefit extensions for Georgia citizens, mere hours after apologizing for calling them "unwashed".
"The issue is not that Isakson regards Georgia voters with contempt and disdain when he refers to us as 'unwashed,'" said Democratic Party of Georgia Chair Jane Kidd. "The issue is that he votes against the interests of Georgia families. He is unsympathetic, uncaring and unconcerned for the economic struggles we the unwashed have to deal with every day. Why else would he vote against extending unemployment benefits for Georgia families who are hurting so badly?"
Isakson's apology came on the same day that he voted against extending unemployment benefits. The Republican Senator has cast multiple votes against unemployment benefit extensions this year.
"Senator Isakson's comments are a perfect illustration of a man who has gotten too comfortable in Washington, and has forgotten who he is, where he comes from, and who he is supposed to be working for," Kidd said. "His insensitive comments make the argument better than anything I could ever say for why Georgia needs more forceful representation in Washington."
# # #
If you enjoyed this article, please consider sharing it!