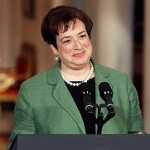 AboveTheLaw brings a little humor to Elena Kagan's confirmation hearing by providing her top five quotes of day two.  My favorite part?
Lindsey Graham wanted to know how Elena Kagan felt about the war on terror (or "terra," in his heavy Southern accent). He asked her where she was on Christmas day, when a would-be terrorist set his undies on fire on a plane over Detroit. She did not bomb with this line:  "Like all Jews, I was probably at a Chinese restaurant!"
My guess is that she's confirmed 70 to 29.
If you enjoyed this article, please consider sharing it!