Contribute to a GA Democrat without spending a dime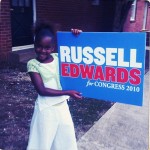 Help Russell Edwards become a DFA All-Star. By clicking a few keystrokes, Russell can obtain the much needed funds to beat dumbass (and not really a good doctor) Paul Broun in the 10th Congressional District. Vote now – the contest ends this Sunday!
From Russell Edwards:
Hi Georgia Democrats!

My name is Russell Edwards, and I'm the Democratic Nominee running against Paul Broun, Jr. in GA's 10th Congressional District. I'm a Georgia native, former school teacher and graduate of UGA Law.

We have built great momentum to run an aggressive campaign against this incumbent who is an utter embarrassment. We raised over 100k in our first quarter fundraising and have activated hundreds of volunteers districtwide.

Now, our campaign is a finalist in the nationwide online contest to win Democracy for America's endorsement! It would be great for Georgia if won and would bring up to 50k in contributions along with hundreds of outside volunteer hours.

Please take a moment to vote for us online here: http://www.grassrootsallstars.com/russelledwards

Together, we can defeat Paul Broun, Jr. and send responsible representation to Congress. We need someone who will fight to create jobs and support our schools.

Thanks for all that you do,

Russell
If you enjoyed this article, please consider sharing it!