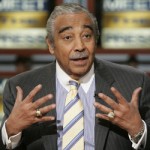 Rumors abound:
"New York Congressman Charles Rangel has reportedly cut a deal to admit to ethical wrongdoing and avoid a potentially humiliating public trial."
He's too arrogant to resign and the Dems don't have the balls to throw him out.
But the two sides were unable to reach an agreement because Mr. Rangel would not agree to acknowledge that he misused his position as chairman of the powerful Ways and Means Committee in early 2007 by helping to preserve a tax break for an oil executive who pledged $1 million to help build the Charles B. Rangel Center for Public Service at the City College of New York.
Let the trial begin!
If you enjoyed this article, please consider sharing it!