Daryl and I got up earlier than we wanted to on a Saturday morning and drove to the Barnes rally in Enigma, and I'm glad we did. The folks there could not have been more gracious, and there was a great crowd in a part of the state some might have thought Barnes would cede.Well, you can forget that. Barnes made it clear today that his path to victory in November cuts straight through South Georgia. Darryl Hicks, candidate for labor commissioner, and Keith Moffett, candidate for PSC were also on hand.  More pics, that you really want to see, are below the fold.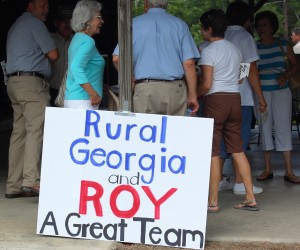 Campaign Plan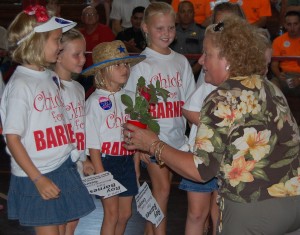 Marie Barnes Accepts Rose from "Chicks for Barnes"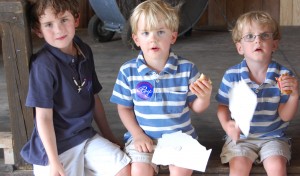 Too Cute Not to Include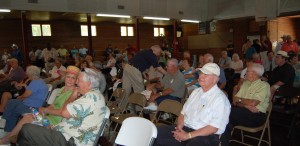 Crowd Shot
Following a great local band, the Carpenters, Barnes took to the podium, part politician, part Baptist preacher, part lawyer arguing to an all-important jury, and had the crowd of 150+ in his corner from about the second sentence. From education to jobs, Barnes blasted the failure of the current administration to invest in job creation in rural Georgia, pointing out that South Georgia's greatest export is now it's children as they grow and leave because they can't find jobs at home. "Where ever Georgians live, they should be able to find work," said Barnes.
And, a good time was had by all!
If you enjoyed this article, please consider sharing it!