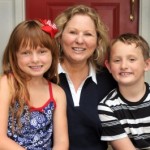 Democratic State House candidate Diane Lore made the Marietta Daily Journal the hard way this week.  Her 2006 Town & Country was stolen right out of her driveway off Lower Roswell Road in east Cobb.
"It's the first time a car has been stolen in more than 30 years in Kings Cove, according to our former subdivision president," she e-mailed Around Town. "Maybe my platform should be 'suburban crime!'"
If you enjoyed this article, please consider sharing it!