File this under the category: Men Don't Do This
I am coming up to Atlanta tonight for all the festivities, and in preparation, decided to clean out my purse. I mean, who wants to carry all that around, right? Plus, from the looks of my desk, it's obvious I don't do this very often ever. I mean, who has time? Anyway, I digress. Among the year-old Publix receipts and grody if not actually used toothpicks-who knows when you're going to need one of those-it became obvious that if the apocalypse were upon us, I should definitely grab my bag.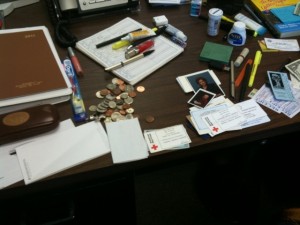 But to the point, where DO men keep their portable medicine chest, makeup, highlighters, paper clips, photographs, business cards, toothbrushes, toothpaste, dental floss, notepads, sunglasses and Red Cross Disaster Mental Health certifications? Never mind. I'm betting from the moment you dug in your mom's purse during Sunday service to find something to occupy your time during the usually loud and predictably boring sermon, you've counted on us to have what you need. And so often, we do, especially if we get a designer bag in the bargain.
See ya'll tonight!
If you enjoyed this article, please consider sharing it!