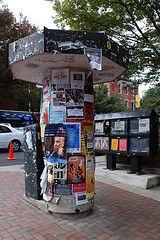 Promoted by Admin. This is where some of us will be this weekend. Hope to see you there!
So, rumor has it that a bunch of y'all are coming to my town next weekend for a Democratic campfire and Kumbaya festival convention. That's cool, just try to wipe your feet before you cross the county line; we try to run a class joint around here.
Since you're coming anyway, and since folks from Athens tend to be the hospitable, helpful type, I thought I'd write up a few helpful tips to make your stay in the "Baby A" as fun and productive as possible.
As an extra bonus, check out the sah-weet Google map I threw together just for you. You'll find all of my recommendations marked.

Where to stay:
By now, you've probably made your reservations, but just in case you're a little slack, check out these fine places:
Hotel Indigo – 500 College Avenue: Probably the hippest hotel in Athens, it boasts a nice bar and good decor in the public areas.
Hilton Garden Inn – 390 E. Washington Street: One of the newer hotels in Athens, and the most convenient to the Classic Center.
Foundry Park Inn and Spa – 95 Dougherty Street: Also downtown, this locally-owned hotel has a great spa, and a good live music venue.
Where to eat:
Ah yes, the really important stuff. We've got tons of places to chow down. Here are a few of my favorites:
The Globe – 199 North Lumpkin Street: This place could also be listed under "Where to drink," but for now, let's talk about the food. It's good, really good. Think burgers, sandwiches, salads, etc. Oh, and the beer? Lots of obscure bottles, and tons of good stuff on draft.
Speakeasy – 269 E. Broad Street: Hands-down one of my favorites. Delicious tapas-style dining. Try the sugar cookies for dessert. You won't regret it.
East-West Bistro – 351 E. Broad Street: Asian and Mediterranean-influenced cuisine. Great for lunch or dinner. (Check out the Beyond the Trestle review here.)
Five and Ten – 1653 S. Lumpkin Street: About a five-minute drive from downtown, this restaurant is well worth the trip. Chef Hugh Acheson was named "Best New Chef" by Food and Wine magazine in 2002, and he lives up to his rep with a new take on Southern staples. Check out his blog for the weekly prix fixe menus. (Also, Hugh is opening Empire State South in Atlanta this summer.)
The Grill – 171 College Avenue: An Athens staple, and the perfect place to wrap up a night of alcoholic excess. A good old-fashioned diner, with vegetarian options as well. Try a milkshake or a malted, if you've got a sweet tooth. Open 24 hours.
The Grit – 199 Prince Avenue: A great vegetarian restaurant; try the Golden Bowl, or better yet, atone for your Saturday night excesses and debauchery with Sunday brunch.
Also worth checking out: Clocked – burgers, tater tots, beer, veggie-friendly; Farm 255 – local food rules; Gyro Wrap – all that and a side of feta; Wilson's – soul food; Food for the Soul – even better soul food (closed on Saturday, open on Sunday).
Where to drink:
The really, really important part. Where can you get a beer in Athens? Well, pretty much anywhere, really, as long as it's not Sunday. (Thanks, Sonny!) As a general rule, try to stay west of Lumpkin Street; that's where you'll find the best bars. Also, smoking is banned indoors everywhere in Athens.
Normal Bar – 1365 Prince Avenue: Without a doubt, my favorite bar in Athens. It's not downtown, but definitely worth the trip. Bain Mattox, one of the owners, has been a fixture in the Athens music scene for years, and his bar is taking off, as more and more townies flock there as an alternative to the chaos in downtown Athens. Plenty of parking, a well-stocked bar, good wine choices, and, of course cheap Lone Star and PBR. Also worth noting, the bar doesn't use coolers, preferring instead to keep their beer on ice. It works.
Manhattan – 337 N. Hull Street: A great dive bar – small, eclectically-decorated, and usually fairly quiet.
Little Kings Shuffle Club – 223 W. Hancock Street: Laid-back and fun place to hang out. It can get a little crowded later at night.
Trappeze – 269 N. Hull Street: Do you like beer? No, I mean do you really like beer? Then, you need to visit Trappeze. Their beer menu is longer than most restaurants' food menus, and represents a national and international selection of craft beers. The staff is knowledgeable and can help you pick just the right brew, and the food is pretty tasty as well. (Check out the Beyond The Trestle review of Trappeze here.)
Also worth checking out: 283 Bar – Small and classy, on the main drag; Walker's – coffee during the day, full bar at night; City Bar – best before about 8pm.
Getting around:
A grid system of streets? What's that? Yeah, Athens isn't exactly the easiest city to find your way around. Fortunately, all of your DPG activities are going to be limited to the downtown area, which means it's generally walkable.
If you're staying outside the downtown Athens area, your best bet to get to the Classic Center is just to drive in. The good news is that there's plenty of parking. The Classic Center has it's own deck. Additionally, there are other decks downtown on College Avenue and near the courthouse. On-street parking is also available, but metered parking may not be your best bet during the day if you're not ready to go feed the meter every couple of hours. At night, there are also surface lots with paid parking, usually for around $5.
Bus service in Athens is generally good, and the Multi-Modal Center (where the buses stop) is a short and easy walk to the Classic Center. You can check out the Athens Transit website for schedules and routes.
Taxi service in Athens (and yes, that's a good option if you plan on having a few too many after the business of the day is done) is sometimes marginal, but as long as you're coming from one of the hotels to downtown, or vice-versa, you should be okay. If you're downtown and trying to get back to your lodgings, you probably won't see cabs cruising the streets. They tend to congregate at the cab stand near the Arch.
Your tour guide:
Got questions about Athens? Email me: martinmatheny [at] gmail [dot] com.
If you enjoyed this article, please consider sharing it!