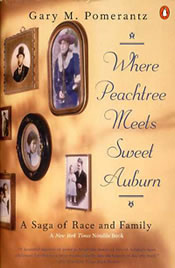 If you live in Atlanta or the surrounding metro area and are interested in local politics and history, you really must read Where Peachtree Meets Sweet Auburn, by Gary M Pomerantz.
Even though it's been out for over a decade it's a timeless account of the rich history of post-Civil War Atlanta.  Mr Pomerantz has gathered the details from personal interviews, newspapers, and a myriad of other sources to tell the stories of the Allen and Dobbs families and how their devotion to Atlanta built this city.
If you're like me, you'll come away wishing that you'd been around during the heyday of John Wesley Dobbs and the  "Ivan Allens" (Sr, Jr, & III).  Oh to have been on hand when John Wesley Dobb's sixth daughter graduated from Spelman.  I bet the echoes of Maynard Jackson Jr are still heard in City Hall today.
The struggles of both black and white Atlanta during difficult and boom times are brought to life by Mr Pomerantz.  Don't be alarmed by the length of the book.  The first 1/3 goes a little slow, but after that you won't be able to put it down.  Sadly, it is not available for iPad or Kindle.  There is already a queue, but if you want to borrow it from me, I'll add you to the list.
If you enjoyed this article, please consider sharing it!