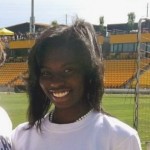 This is cool on so many levels. This summer, WIN List is busy cultivating the next generation of women leaders while we're helping women get elected this year. You already know about our WIN Corps program. Now, I want to introduce you to Kali Stitt, a rising junior at the Atlanta Girls' School, the first participant in what I expect will be an ongoing and growing summer internship program. Today, I received a letter from Kali, describing her summer experience with WIN, and I am so impressed with her insight, we posted it on the WIN Blog, and I wanted to share it with you.  Here's just a bit:
My most memorable moment as an intern was working on a race and winning the race.  I worked with State Senator Valencia Seay when she had her run-off election in July.  While I was there I made phone calls, held signs and encouraged people to vote.  In the end, Senator Seay won, and knowing that I had a little part of that made my week.All in all, this was the most entertaining, educational 4 weeks of my summer.  All the women that I've met have truly touched my life and changed my reasoning about things, for good.
Thanks, Kali!
If you enjoyed this article, please consider sharing it!