Making Women's Equality a Reality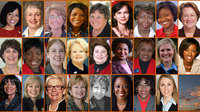 "Making Women's Equality a Reality" is quite a process. While the doors to the voting booth opened to women nearly 90 years ago, women are still under-represented in elected office. In Georgia, fewer than 20% of those who serve in the legislature are women, and last session, only 8 women served in the Georgia senate. WIN List exists to change those numbers- it's our raison d'etre. On August 26th, the 90 anniversary of women gaining the right to vote, WIN List will honor our 26 endorsed candidates for 2010. We hope you will join us for this special event and help us raise the money we need to support each and every endorsed candidate to WIN in November. All the info is here, on our brand new blog. Because we're cool like that. 🙂 And, at WIN, we only endorse progressive, Democratic women because we know to be an effective advocate for women, families, and, yes, for Georgians, you have to do more than wear a skirt.
If you enjoyed this article, please consider sharing it!