Roybama? Is that all the Republicans have?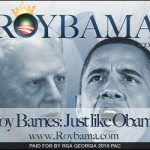 Really, really? You Republicans are so creative…NOT! As their saying goes, "Georgia wants results, not apologies", so let me suggest some other things that Georgia wants and that Republicans have failed to provide over the last 8 years:
– jobs, jobs, jobs
– a transportation plan
– a water plan
– a better Trauma Care system that doesn't hike additional taxes onto taxpayers
– ethical leadership
– safe schools
– salary raises for our teachers
There hasn't been a peep out of NoDeal and Cagle about their bright ideas for Georgia's future. Either put up or shut up.
If you enjoyed this article, please consider sharing it!