Oh Damn, Baby Girl Deal is in a heap of trouble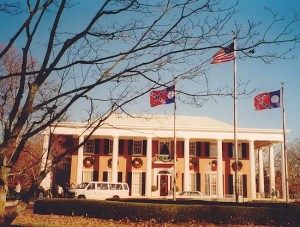 You better believe Daddy Deal is gonna take out a mortgage on that fine house on 91 W Paces Ferry Rd if he is elected Georgia Governor.
Judge revokes Deal daughter's bankruptcy discharge
R. Robin McDonald, of the Daily Report reports this:
A bankruptcy judge has revoked the 2009 discharge of more than $3.1 million in debts accrued by the daughter and son-in-law of GOP gubernatorial candidate Nathan Deal.

Carrie Deal Wilder and Clinton W.C. Wilder consented to the Oct. 6 order that Judge Robert E. Brizendine issued after David S. Weidenbaum of the Office of the U.S. Trustee filed a formal complaint against the Wilders.

The complaint was based on the couple's failure to declare on their July 2009 bankruptcy petition that Clinton Wilder had filed for bankruptcy in November 2001. Bankruptcy laws bar a debtor from declaring bankruptcy within eight years of a previous bankruptcy. Their lawyer, Harmon T. Smith Jr. of Gainesville, could not be reached.

The revocation means that $513,276 in unsecured debts and $2,603,396 in secured claims will be reinstated and are subject to collection.

Brizendine reopened the Wilders' 2009 bankruptcy case last month when news of Clinton Wilder's previous bankruptcy surfaced after an examination of Deal's debts by the Atlanta Journal-Constitution. The AJC reported that Deal and his wife had co-signed loans totaling more than $2 million for the Wilders to prop up their failing sporting goods store.

Deal's accountant, Jimmy Allen, has told the Daily Report that the Deals also put up property estimated at $1.5 million as collateral for one of the loans. Allen said that Deal has negotiated an agreement to assume responsibility for the loans he and his wife had co-signed, with Deal cashing out retirement funds to pay $700,000 of the debt.

The Wilders did not list the Deals either as guarantors or co-signers on those loans in their 2009 petition, although they were required to do so. The couple's petition also did not specify that they had no interest in the property used as collateral for one $1.85 million loan and that Deal, not they, actually owned the parcel.
If you enjoyed this article, please consider sharing it!