Darryl Hicks, our next Labor Commissioner!

Many of us met Darryl in 2006 when he ran for Secretary of State in a crowded and much distinguished field.  Although new to our political circle he made an immediate impression on many of us.  The words, decent, authentic, smart, capable are used as part of any sentence describing Darryl. I'm proud to call him a friend.
This year, he decided to seek office for Labor Commissioner when Michael Thurmond vacated the position to run for US Senate. He's campaigned with integrity and with a professional team of Georgia savvy folks. If you have not been to his website recently, please do so, it's worth your time to review the videos, his extensive professional resume and biography.  Below the flip is an invitation to a event this Sunday, it's reasonably priced and gee when was the last time you saw one of those!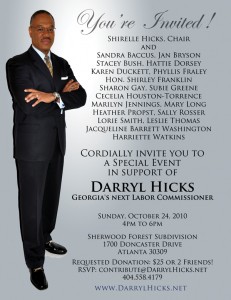 If you enjoyed this article, please consider sharing it!