Congressman John Lewis to receive Presidential Medal of Freedom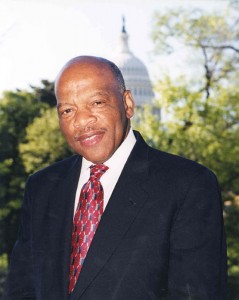 Breaking news, Rep. John Lewis (GA-5) was notified that he along with 14 others would receive the nations highest civilian honor. Press Release below.
As many of you already know, I believe Congressman Lewis to be one of this countries finest human beings, it is a thrill to know that he's being recognized for his lifetime of service to others and this nation.
Please join me in congratulating him.
FOR IMMEDIATE RELEASE                                                                 Contact:  Denise Tolliver

November 17, 2010                                                                                                          (202) 225-3801

Congressman John Lewis Named by White House

To Receive the Presidential Medal of Freedom

Washington, DC – President Barack Obama has named Congressman John Lewis, 5th District, Georgia, as one of the 15 recipients of the Presidential Medal of Freedom.  This is the nation's highest civilian award that is presented to individuals who have made especially meritorious contributions to the security or national interests of the United States, to world peace, or to cultural or other significant public or private endeavors.

"I am deeply moved and gratified by the President's announcement that he will be awarding to me the Presidential Medal of Freedom in a February 2011 ceremony.  I feel more than lucky and very blessed that I have had an opportunity to play a small role in helping create a more perfect union.  Whatever I've been able to do or accomplish, I have done so with the support and encouragement of my family and many friends in the Civil Rights Movement and colleagues in the Congress," said Congressman Lewis.

The White House issued the following statement in its acknowledgement of Congressman John Lewis:

"John Lewis is an American hero and a giant of the Civil Rights Movement.  He served as chairman of the Student Nonviolent Coordinating Committee (SNCC), helped organize the first lunch-counter sit-in in 1959 at the age of 19, and was the youngest speaker at the 1963 March on Washington.  In May 1961, he participated in the initial Freedom Ride, during which he endured violent attacks in Rock Hill, South Carolina, and Montgomery, Alabama.  In 1964, he helped to coordinate the Mississippi Freedom Project, and, in 1965, he led the Selma-to-Montgomery march to petition for voting rights where marchers were brutally confronted in an incident that became known as "Bloody Sunday."  Eight days later, President Johnson addressed a joint session of Congress, condemned the violence in Selma, and called for passage of the Voting Rights Act, which was enacted within months.  Since 1987, John Lewis has continued his service to the nation as the U.S. Representative for Georgia's 5th District, which encompasses most of Atlanta."

The medal was established by President Truman in 1945 to recognize notable service in the war.  In 1963, President John F. Kennedy reintroduced it as an honor for distinguished civilian service in peacetime.
If you enjoyed this article, please consider sharing it!