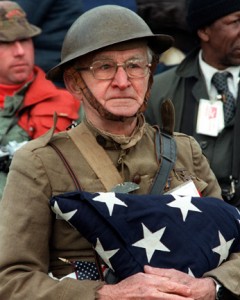 We have the holiday, now if the government could show thanks by making sure this is fully funded.
The warrior in the picture is World War One veteran Joseph Ambrose. He was attending the dedication day parade for the Vietnam Veterans Memorial in 1982. The flag that he is holding is the flag that covered his sons casket who was killed in the Korean War.
"To us in America, the reflections of Armistice Day will be filled with lots of pride in the heroism of those who died in the country's service and with gratitude for the victory, both because of the thing from which it has freed us and because of the opportunity it has given America to show her sympathy with peace and justice in the councils of the                                               nations."-President Woodrow Wilson 11/11/1919
If you enjoyed this article, please consider sharing it!