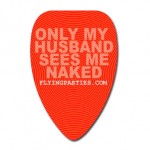 Apparently, you now have three options at the airport: 1) Full body xray scan which a) takes nudie pics of you and stores them; and, b) may or may not later cause cancer; 2) An "enhanced" patdown; whereby, a TSA agent gets to second base (thirteen second mark – wtf?) without buying you dinner; or, 3) Threatened with a civil lawsuit for telling a TSA agent that you'll call the police if he touches your "junk."
Yay for security theatre!
Next Wednesday, the busiest flying day of the year, is National Opt-Out Day whereby you refuse the nudie cancer scan and opt for the groping. In all honesty, the nudie pic doesn't bother me as much as the groping, but considering my family history of skin cancer and the fact that I fly three to four times a year, I'm going to pass on the radiation.
THE GOOD NEWS!
The U.S. Senate has scheduled an oversight committee hearing for Wednesday. The Democrats seriously need to get in front of this issue and tell Obama and the TSA to fuck off.
If you don't shop, the terrorists have won.. so, here are two fun items: 1) Flying Pasties – Cover your naughty bits with fun rubber sayings so that the TSA agent can't actually see anything. But, I suspect you'll get pulled out of the nudie cancer scan and groped if you try this because the machine will detect a weird object on you. 2) TSA Scan This shirts – I am seriously considering this, but only on my return flight back from Vegas because I don't want to be labeled a terrorist threat and get stuck in Atlanta.
UPDATE: Per the AJC, "Atlanta's airport uses millimeter wave technology, bouncing electromagnetic waves — not radiation — off the human body to create a photo negative, TSA's Allen said."
If you enjoyed this article, please consider sharing it!