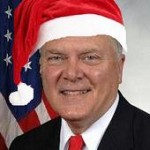 Business tax cuts key for Deal | Athens Banner-Herald:
Deal's wide-ranging speech, one of his first since winning the Nov. 2 election, laid out a philosophy of small government but was short on specifics. He acknowledged as much in a joke.
"I sort of had the feeling like maybe one of those department store Santa Clauses that had the great big sack on his back, and all the children were clamoring to see what was in the bag," he said. "I'm not going to tell you. I don't want to spoil your Christmas."
Unfortunately, Georgia already knows what's in your bag. Big lumps of coal.
If you enjoyed this article, please consider sharing it!