Found in my inbox:
Fellow Democrat,

You are receiving this email because we know you care about the fate of the Democratic Party of Georgia and would be willing to commit your personal support to moving the Party forward. Now is the time that the Democratic Party of Georgia needs strong aggressive leadership.

We believe that SHIRLEY FRANKLIN is by far the best candidate to chair our Party.

Shirley Franklin has not requested this "draft movement" but we feel that if a large number of significant Democrats will commit to supporting Shirley, she might consider running for the Chair of the Democratic Party of Georgia.

Please click below and add your name to the list of significant Democrats across the State of Georgia. We need the petition signed by Friday, Dec. 10, 2010. Please forward this email to your family and friends.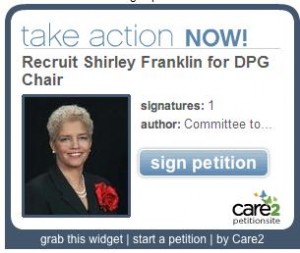 If you enjoyed this article, please consider sharing it!