Congratulations Mr. Chairman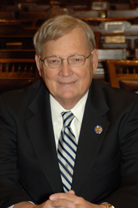 Just 3 days ago in my local paper:
This year, however, the District 24 Republican [Sen. Jack Murphy] will serve as chairman of the banking and financial institutions committee.

"I was seeking the banks and banking appointment because I felt like it's a move up toward something slightly more powerful," Murphy said. "Banks and banking is something that I've been interested in for a long time."
Meet Senator Jack Murphy, former member of the Board of Directors for the now defunct Integrity Bank. The same Jack Murphy that just got served with a 70 million dollar lawsuit, courtesy of the FDIC, for his awesome stewardship of Integrity's lending practices. Even more awesome? Jack's role on the Board as a member of the "Audit/Compliance" committee.
In the complaint, the FDIC alleges that "The Defendants Disregarded Regulatory Warnings" and knowingly broke lending limit statutes. While I'm not privy to the exact accountabilities of the Audit/Compliance committee at Integrity, I'm guessing Jack was privy to the warnings from regulators (…and the "waivers" that gave cover to loan officers at the bank to break the law).
According to the State Senate website; "The role of the Banking and Financial Institutions Committee includes the jurisdictions of financial institutions, real property finance, and corporate securities law."
For a party that is often openly hostile to the regulatory function of government, it seems as though they couldn't have selected a better guy for the job.
If you enjoyed this article, please consider sharing it!