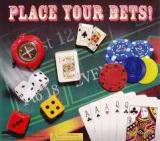 It appears that a certain cranky county party chair in Chatham spotted an error in the upcoming Democratic Party of Georgia's election. Starting tomorrow, the DPG will have to reopen the nominations for all officers. So candidates who couldn't figure out that they wanted to run for an executive position now have until Jan. 19th to make up their damn minds. Anyone who gets in to the race now doesn't deserve a vote.
Rumor has it that the current 1st Vice Chair and former US Senate candidate is building his troops to run for the Chair position. The only visual I can think of is this.
Speaking of the DPG elections, there are a couple of candidates in one race *cough, cough, the Vice Chair of County Parties* who seem very fond of spamming State Committee Members multiple times each week. Email spamming a targeted audience of 300 people is dumb and annoying and has probably cost both candidates lots of votes.
Have fun with those elections and can someone please read the bylaws before the voting starts.
If you enjoyed this article, please consider sharing it!