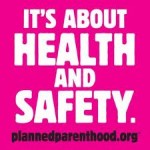 I would like a reasonable explanation for this. As I understand it, the House voted to defund Planned Parenthood in the next budget because, as Rep. Mike Pence (R-IN) says, taxpayer money should not go to groups that provide or promote abortion. Hyde Amendment aside, I'd like to point out a few things. 98% of Planned Parenthood services are non-abortion related. In fact, Planned Parenthood is the leading provider of sexual and reproductive health care (read: birth control and annual exams, which screens for pregnancy, cancer and STDs) and the vast majority of their clients are deemed low-income.
Assuming this passes the Senate and is signed by Obama, what does this realistically mean? More pregnancies for families who cannot afford to have children. Because let's face it – rich people will always have access to birth control. It also means more people who do not know they have an STD and more people who do not know they have testicular, breast or ovarian cancer. Brilliant.
Not to mention, Republicans don't want to fund health care nor TANF (Temporary Assistance for Need Families). So. Let's have people who can't afford babies have more babies, but we won't help them care for those babies and if they all get sick and die, well, we won't pay for health care either. Does this make any fucking sense to anyone? PREVENTATIVE CARE, PEOPLE! It's cheaper in the long run.
If our brethren over at Peach Pundit want to defend this, have at it. I promise not to call you names, but I can't vouch for the rest of the commenters.
If you enjoyed this article, please consider sharing it!