12:19 P.M. Well, it's a cloudy day here in Augusta, kind of like the cloudy skies image on the late, unlamented previous incarnation of the DPG web site. There is a sense of optimism among the people here waiting for the first state committee meeting of the new administration – although if i had to make a guess about an on-time start, I'd probably have to twke a laugh break. Obligatory photos of our friends hanging out enjoying the plantation atmosphere..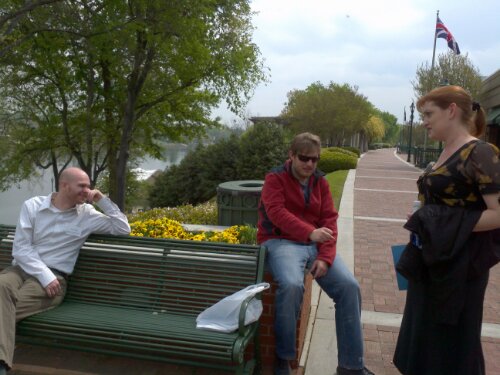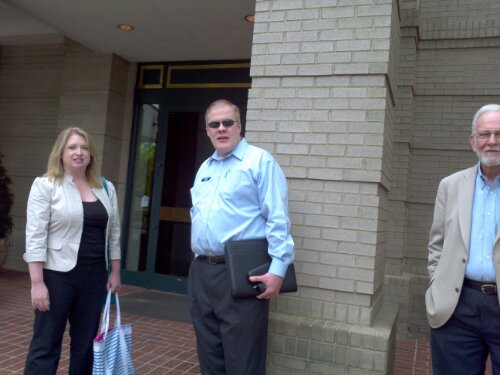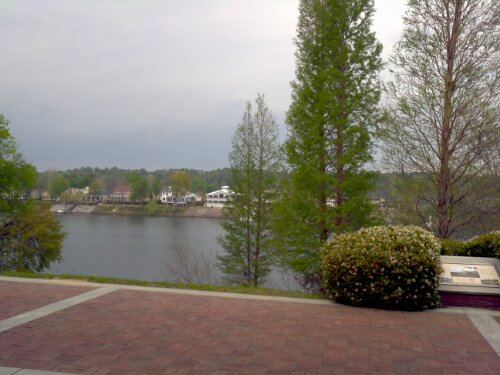 1:04 P.M. In a break with tradition, Chairman Berlon is actually making an attempt to get this show on the road, although the chattering classes as usual have had other ideas. The threatened poor weather has officially arrived in the meantime. (Lowell Greenbaum is actually welcoming us now, and it's only 1:07 – amazing.)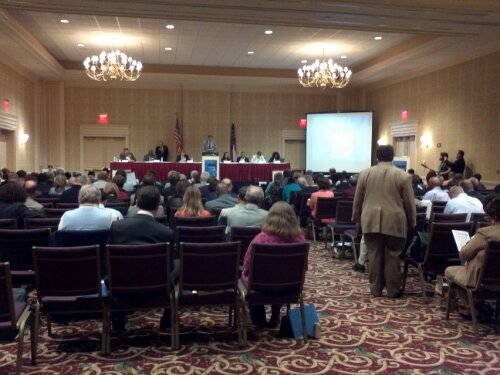 1:16 P.M. We seem to have a reasonably strong crowd here. I haven't heard anyone mention the dreaded words "We don't have quorum" so hopefully we'll be able to conduct business. Mike just took the stage to a sustained standing ovation, although I'm guessing when he gets to the state of the party we'll be in for a serious reality check. There's a rather furry looking youth (who looks a little like my driver's license photo) taking audio – not sure if he's press or a DPG volunteer. First vice chair Nikema is on stage. It's just delightful to have someone so energetic and knowledgeable on DPG exec, in contrast to some from the previous administration.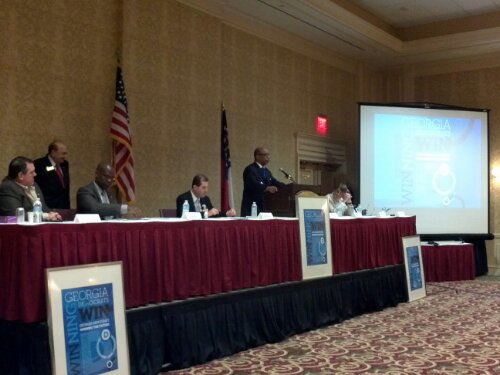 1:29 P.M. Russell Edwards, our treasurer, is announcing our recurring donor program. He isn't mentioning much about our current finances, but I'm sure the unspoken subtext is we can really use it. Supposedly we're on track for the biggest state JJ ever – I don't know how much we actually raised in 2008 when Sen. Clinton spoke, but yeah, I'm pretty sure that sound bite was just rhetoric.
1:34 P.M. Secretary LaVerne Gaskins says minutes are going to be made available. We take minutes at these meetings? I never knew!
1:40 P.M. Speaking of people I'm happy to see on stage, R.J. is a lot more than average success getting attendees to respond with ENTHUSIASM. Either he's awesome or people are truly still feeling hopeful. Or maybe both? Geez, have Congressional district chairs ever gotten this much applause?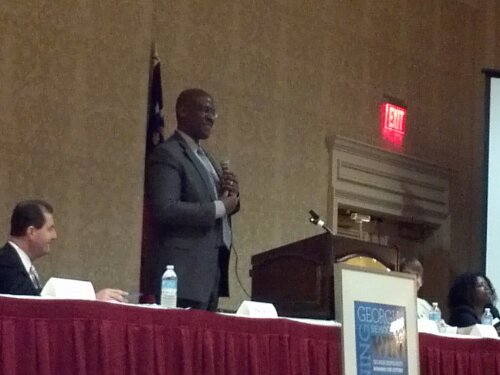 1:47 P.M. Wait, when did Tommy Irvin end up in a bad car wreck? Apparently our former at commissioner is not doing well these days after said wreck last week. No wonder he isn't here. Speaking of attendees, I don't believe our former chair (and, I have heard, continuing state committee member) Jane Kidd is here. Someone please correct me in the comments if I'm mistaken. Mike is previewing some bylaws changes that are going to be introduced at our next meeting, including some much-needed transparency into our financial operations (that got a couple of scattered loud cheers).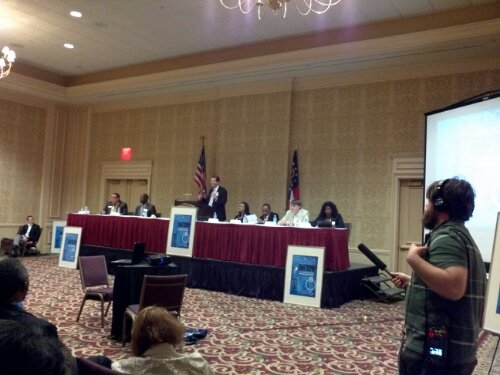 2:03 P.M. Gwinnett is gaining 3 seats and DeKalb is losing 2? Holy schnikes. Methinks the viciousness in DeKalb is going to get really out of control, starting right now apparently with someone challenging whether the elections already held can be invalidated. Yay for parliamentary drama! It's going to get rough at the May meeting…
2:18 P.M. Because this blog is public, I won't repeat our exact financial numbers, but let's just say they aren't good. On the bright side, apparently VoteBuilder is going to be available free of charge (round of applause).
2:30 P.M. Some good JJ news – apparently President Carter is confirmed, and we will also be awarding John Lewis the initial "John Lewis Presidential Medal of Freedom" award. I actually feel some small twinges of enthusiasm for the event.
2:38 P.M. In an episode of "The Adventures of Steve and Steve", two great Steves from Gwinnett are discussing some election demographic numbers, giving us a preview of what our political landscape will look like in 2012.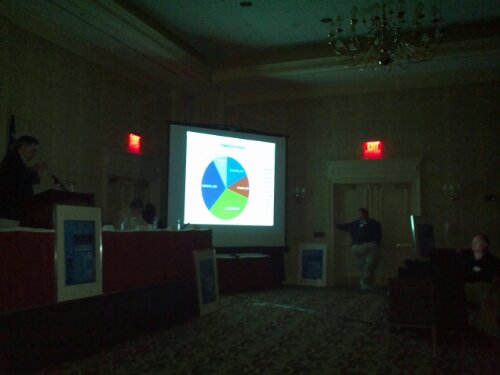 2:55 P.M. "Ok, we'll take 5 or 6 more questions and then we have to move on." You can see the results – people were almost stampeding to line up behind Cobb County chairwoman Melissa Pike for a chance to get their voices heard. Tasso looks attentive, but he was really just waiting for a distraction to arrive via his mobile device 😉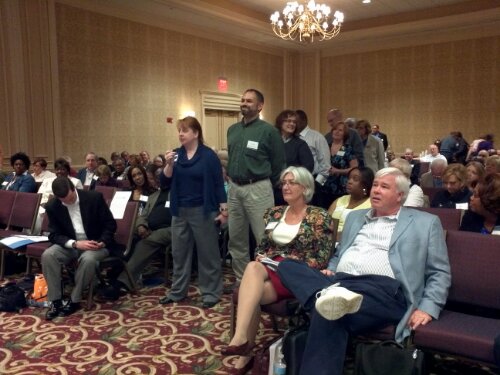 3:15 P.M. After an extended period of airing questions, comments, and general grievances, we are moving on to a presentation of the new DPG web site by its principal architect, BFD's very own Melanie Goux, with Trevor Southerland running the laptop. One of our core initiatives is going to be social media, which those of you on Facebook know will be very powerful. The new site looks fabulous, as you can well imagine, and that's not even just because the previous version set the bar lower than Newt Gingrich's moral standards.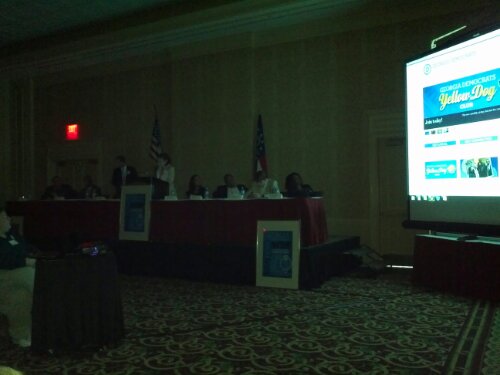 3:25 P.M. Mike just announced the whole reason we are in Augusta, namely the launching of the first of what are hoped to be many satellite offices a paltry five blocks from where we are.
3:38 P.M. We are wrapping up, allegedly, by which I mean Mike is now taking questions. There's no telling how long this will go… I'm hungry. To his credit, at least Mike is taking these – I don't recall Jane doing likewise.
4:01 P.M. Wow, and we are finished on time too. Everyone is leaving pretty happy, with the possible exception of some malcontents from DeKalb. Woohoo!
The field office: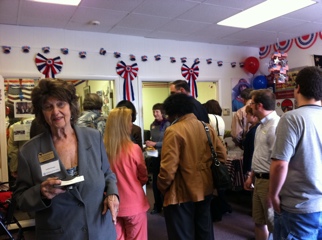 If you enjoyed this article, please consider sharing it!