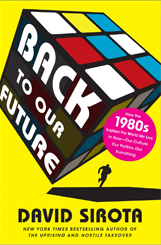 Author and friend, David Sirota, has much to celebrate these days.  The addition of a lovely child to his family, a hit talk-radio show in Denver, guest spots on television and radio around the country, and now a new book!  Just named to the "Anticipation" index of most anticipated books by New York Magazine, Back to Our Future: How the 1980s Explains the World We Live in Now—Our Culture Our Politics, Everything, David's new book hit the stores and internets today (and my iPad & iPhone, as well!)  Read all about David and his penchant for the 80's in USA Today.
Let's hope David swings through Atlanta on his national book tour!
If you enjoyed this article, please consider sharing it!