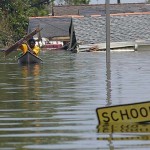 If you want to help out the folks devastated by the recent flooding of the Mississippi River, shoot on over to the Red Cross (Mid-South Tennessee Region).
In somewhat good economic news, the Gold Strike in Tunica re-opened today, which employs 1,400 people.
* The floods didn't stop the International World Championship Barbecue Cooking Contest from occurring last weekend. Its motto this year? Come Hell or High Water.
If you enjoyed this article, please consider sharing it!