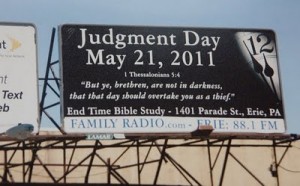 I don't know about you but I'm relieved that the May 21st date that floated around for the JJ Dinner has been changed.  Don't get me wrong, there are few places I'd rather be when the Rapture comes than in a ballroom filled with Georgia Democrats.  Logistically speaking I think June 25th is a better option.  Just imagine the confusion on May 21st – who gets "Raptured" from a mashup of Democrats?
The other good news is that we have until October 21, 2011 before the  world ends completely.  I'm really looking forward to the Post-Rapture Five Months. Partay!
Want to keep up with news on the Rapture?  Check out Justin Berton's Blog, Last Year on Earth.
If you enjoyed this article, please consider sharing it!