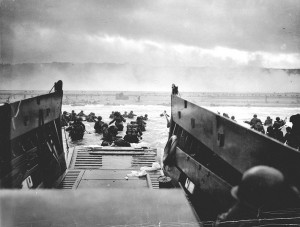 67 years ago today. My Great Uncle Leo Poole stormed the beaches of Normandy. He was a Sgt in an Infantry platoon. Two days later he received a Captain's battlefield commission. The reason for the commission is that everyone in his chain of command from Sgt. to Captain (that's a lot of people in between) was either Killed in Action or wounded that day.
My Uncle finished out WWII then fought in Korea and retired after two tours in Vietnam.
He spoke about WWII when asked but never really about D-day. His only response was," It was a long day. We knew we had to go."
Our WWII vets are leaving us in great numbers everyday. We hear everyday on the news about our "debt" problem. In my eyes our largest debt is to the brave men and women who have fought for our country. On this day please remember the folks who 67 years ago boarded a boat or jumped out of a plane because they knew "we had to go."
If you enjoyed this article, please consider sharing it!