Live blog from the GWCC DPG festivities
9:20 P.M. Ok, my chauffeurs are leaving, so I will have to let Chairman Buckley finish his speech without me. This was definitely a much better JJ than I was expecting – kudos to our leadership for pulling this together (pulling this out of the same body regions from which Sarah Palin's "thoughts" come from). Sayonara, y'all.
UPDATE: Some dear person (Video by John S. Quarterman for Lowndes County Democratic Party) uploaded Ray's speech to YouTube, start here for beginning...work your way through the 10 links.
9:13 P.M. People are finally starting to clear out – guess Congressman Lewis was the real keynote speaker. Nevertheless, Chairman Buckley is on stage now.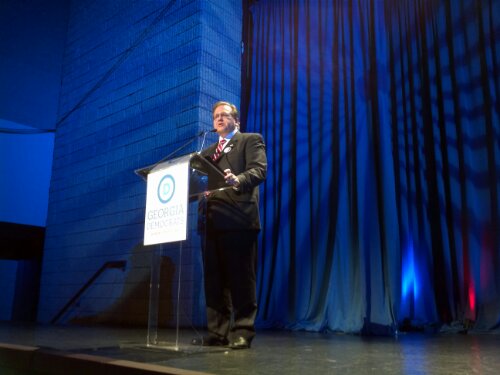 8:59 P.M.If this doesn't make you want to stand up and cheer yourself hoarse, you're in the wrong party. Or maybe running the stupidest primary election in history…
UPDATE: same nice person (Video by John S. Quarterman for Lowndes County Democratic Party) uploaded part of Congressman Lewis's speech here.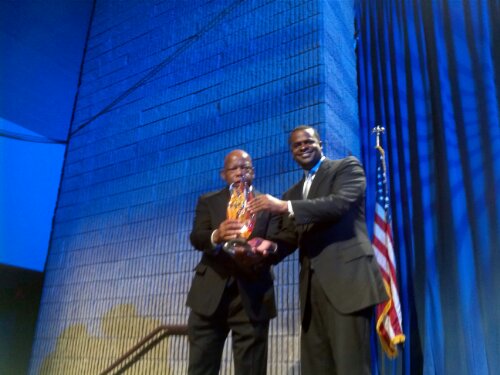 8:50 P.M. We've just honored our Murphy Award recipients. Gee, some of those people up there look familiar… Congratulations Mel!!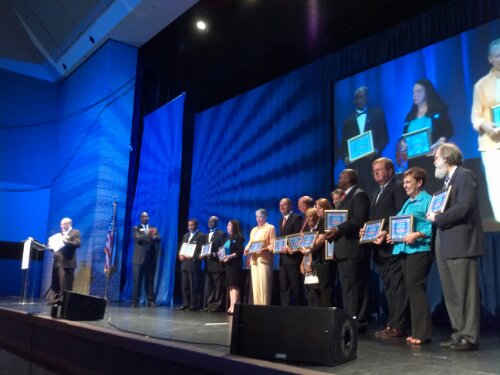 Congressman Lewis is being awarded a lifetime achievement award by Mayor Reed. Our chairman's fearless prediction that we'd be out of here by 9 is proving to be humourously inaccurate, but no one seems too fatigued yet.
8:24 P.M. Richard Ray introduced one of our speakers tonight. Yeah, he can speak for me too.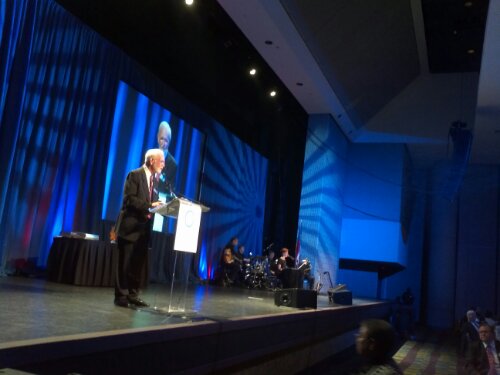 Our speaker is Wisconsin State Senator Lena Taylor, who seems like a very strong and valuable presence, over and above being one of the 14 who took the fight against Wisconsin's unions to the streets. She's serving up some real red meat to the labor folks in the crowd. Some of our own legislators could learn something about unions from her. Love it.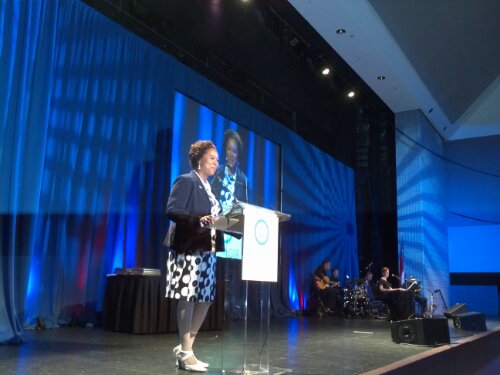 8:09 P.M. Looks like we are getting going with the program now. Obviously Congressman Lewis (who so speaks for me) has been a photo op magnet. I swear someone on stage just said that Georgia was founded in 1932 ;-P We are recognizing our state House and state Senate members, and this year at least the bad things that happened are not really their fault. Rep. Abrams is on stage and she can speak for me too.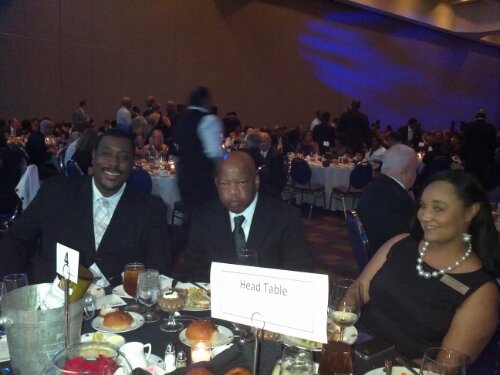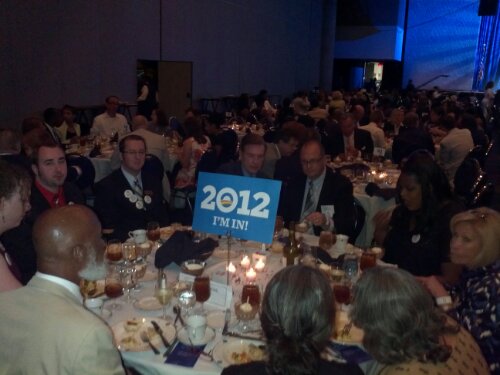 7:48 P.M. Really nice turnout – have to emphasize how good it is. Off year, terrible time for Democrats in this state, state party's finances in disarray (but getting better), and yet it's packed in here. Maybe reports of our demise are premature.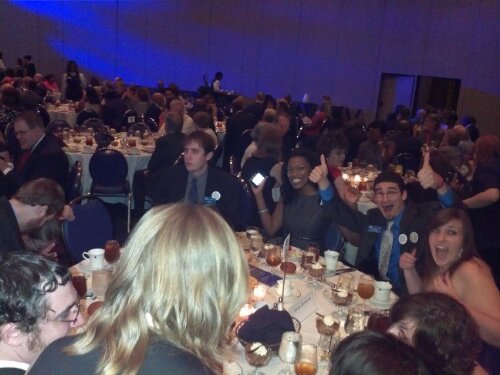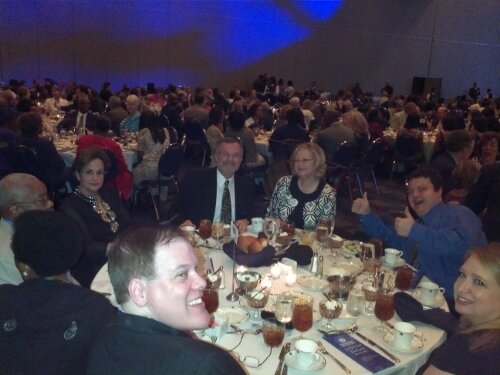 7:37 P.M. Everything I have heard up to this point is that this event is packed to the bursting point, and it sure seems like it. Amazing turnout. Maryline Blackburn has sung the national anthem and Mike is opening this dinner.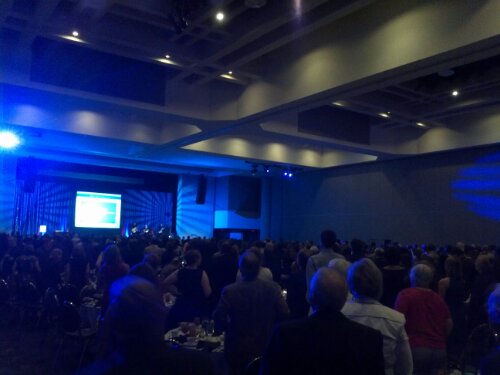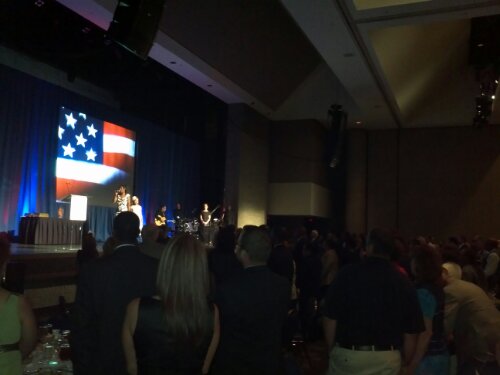 7:25 P.M. After another extended break (read: Taco Mac time), and the obligatory pre-dinner chit-chat, we're getting ready to start the dinner portion of tonight's events.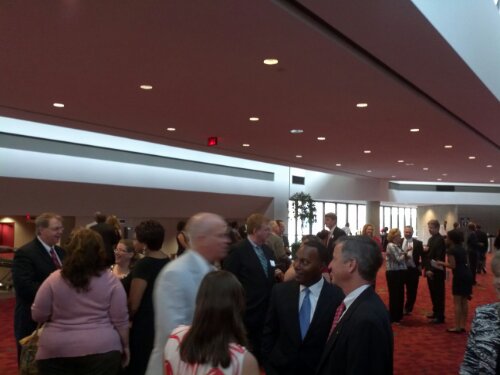 4:40 P.M. Yay! We have passed our delegate selection plan without too much drama. We have affiliate reports from the GADCC and YDG, both of which I will omit for sanity's sake.
4:23 P.M. Dr. Hate: "This is not a question." Many people muttering: "THEN SHUT UP" Although dealing with Dr. Hate is probably something a guy from New Hampshire needs to learn how to do…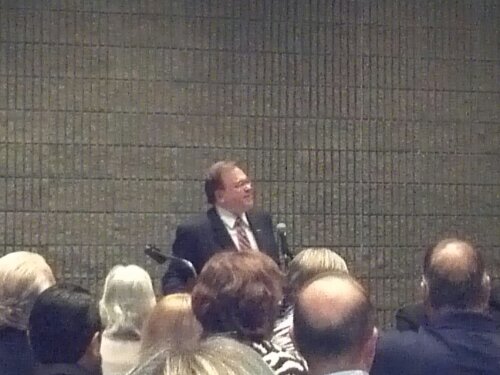 4:15 P.M. For being from New Hampshire, he sounds kinda normal. Apparently New Hampshire, is, indeed, not an ethnically diverse state (weird actual comment from speaker redacted). I think I'm glad there are no TV cameras here. (Oh, NOW he busted out that Yankee accent…) Questioner: "Does Michelle Bachmann have a chance in New Hampshire?" Chairman Buckley: "Is there press here?" Mutterings: "Where's Ataru?" (Yes I'm here. Further comments redacted, because I'm nice 😉 )
4:00 P.M. We are wrapping up a 20 minute break (do we have to?) . Nikema is introducing our guest speaker, New Hampshire Democratic Party Chair Raymond Buckley. His first words: "There's a lot of you." Duh, I think we have enough people here to make a state house district in New Hampshire.
3:16 P.M. Second best news of the day: Apparently all the drama with the census calculations from last time has been withdrawn, and we're just moving on now. Woohoooooo!
3:11 P.M. Apparently the rumor is that they are trying to draw John Barrow into a district with, and drawn for, Chip Rogers. Insert "boo"ing from old woman in The Princess Bride here.
3:02 P.M. After a caucus report from Pedro, Mike just gave a shout out to the recent events in New York! Yay!! Mike reports that we are ok financially for the next three or four months independent of what happens cash wise with tonight's JJ dinner. Sadly, we don't get a budget until after the dinner tonight. According to Mike, we need $1.5 million a year to perform optimally, but are bringing in $900,000. Sigh…
2:50 P.M. LaVerne just discussed her role as deputy general counsel. Apparently we (DPG) escaped some possible financial penalties due to an elections commission vote that split 3-3 – 3 Republicans in our favor, and 3 Democrats against. Weird!
2:38 P.M. Russell is up giving what I hope is the treasurer's report. Given what I have heard, I'm just hoping for no drama (cue a certain Black Eyed Peas song). (5 minutes later) It isn't a treasurer's report.
2:35 P.M. Apparently there are 3,540 elected officials in Georgia, and Miguel is going to call all of them. Yay!!!!
2:31 P.M. Page is our new ED 🙂 Sadly I missed a few minutes of the intervening time looking for my glasses (thank you beer). R.J. just got done giving a very brief report.
2:16 P.M. Well, we are now getting underway and settling in for a long meeting.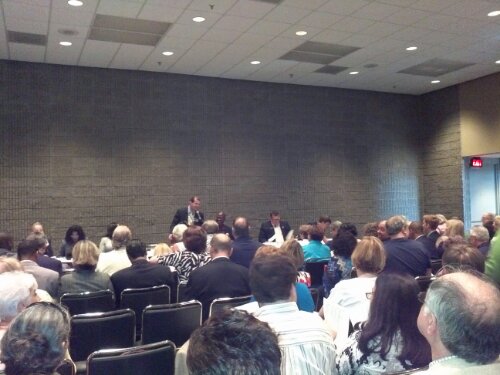 2:01 P.M. So much for an on-time start to things, despite Mike's protestations to the contrary. Check in is proceeding at a frenetic pace. I did just hear from Mike that our dear, dear friend Page was unanimously recommended for the ED position and will be announced once things get under way here. The news could not be better 🙂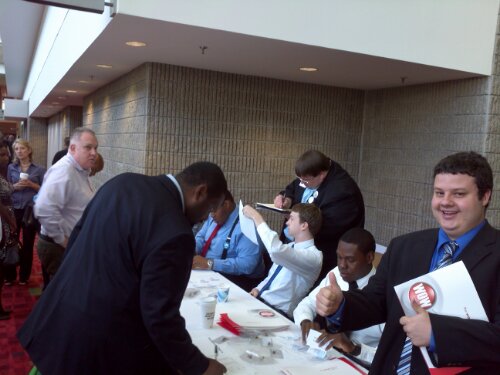 12:06 P.M. And now we enter the part of the day where we let the exec committee do their funky exec thang, and we (Yes, "we", I'm not the only degenerate in this party) go to Taco Mac until the state committee meeting starts. Feel free to join us.
11:33 A.M. I'm in the room with Mike and the agenda is the committee situation. Apparently this is the "core group" for committees. At Melanie's suggestion it sounds like there's going to be inter-committee conference calls scheduled through the remainder of the year.
11:24 A.M. Meetings are ongoing – attendence is a little sparse but those of us who are here are valiantly carrying on.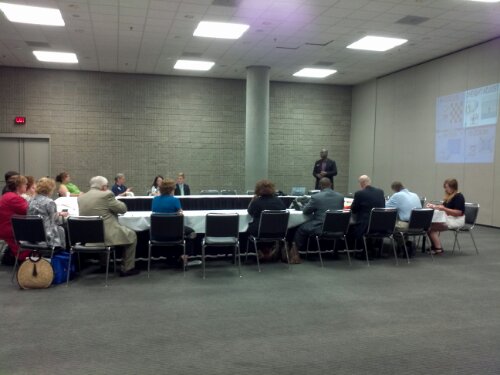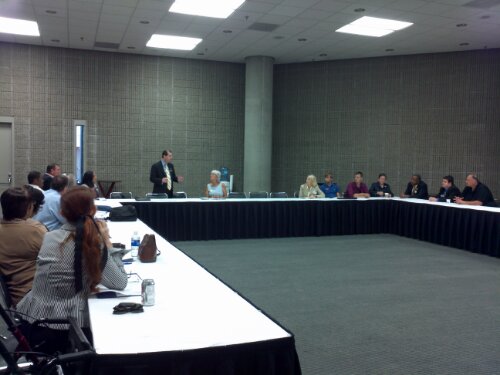 10:50 A.M. It begins. Yet again, it begins… Supposedly caucus meetings have been going on, and we have the scintillating GADCC board meeting beginning shortly. Anyone wanna celebrate New York's induction into the GLBT caucus at Taco Mac in the meantime?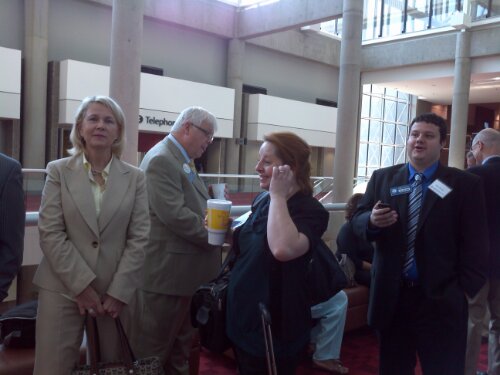 If you enjoyed this article, please consider sharing it!