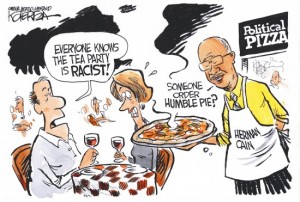 The Tea Party movement has been framed as having racial overtones, and this 2010 survey indicates that Tea Party devotees do tend to be racially intolerant.
"The data suggests that people who are Tea Party supporters have a higher probability"—25 percent, to be exact—"of being racially resentful than those who are not Tea Party supporters," says Christopher Parker, who directed the study. "The Tea Party is not just about politics and size of government. The data suggests it may also be about race."
Today's question:  Does Herman Cain's popularity with the Tea Partiers absolve them of charges of racism?
If you enjoyed this article, please consider sharing it!