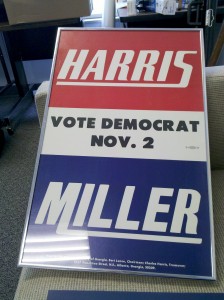 As some of you may know, Melanie and I have been volunteering on a special project for the Democratic Party of Georgia. But more on that later.
I rescued this poster from Spring St yesterday, and brought it over to the new HQ. As Melanie was hanging it up, ( in the Joe Frank Harris suite, no less) I heard her give out a whoop and chuckle. The next thing I heard was;
"Did you know Bert Lance was the Chairman of the Georgia Democratic Party"?
Actually I did.
She then began to read the fine print at the bottom of the poster, you'll note that according to whatever election rules that gave us the requirement "paid for by" it clearly says;
"Paid for by the Democratic Party of Georgia, Bert Lance Chairman"
When was the last time the name Bert Lance came up in one of your conversations?
Oh come on it  has to be decades ago! Earlier this week I was on a conf call and someone remarked  that it might be helpful if "someone" wrote out the history of the GA Democratic Party. Well here's some history for ya! That and a couple dozen books that have been written on the subject.
In 1982 he was elected Chairman of the Georgia Democratic Party. He must have done a pretty good job because in 1984 Walter Mondale sought to name Lance chairman of theDemocratic National Committee, and was Mondale's first choice for Vice President during his 1984 campaign. Yeah, that didn't exactly work out for Bert..
Lance is credited with originating the phrase "If it ain't broke, don't fix it", when he was quoted saying it in the May 1977 issue of the magazineNation's Business. The expression became widespread, and William Safire wrote that it "has become a source of inspiration to anti-activists.
Does anyone know where he lives now?
If you enjoyed this article, please consider sharing it!