Congressman John Lewis hosts a Voting Rights panel discussion-Monday Evening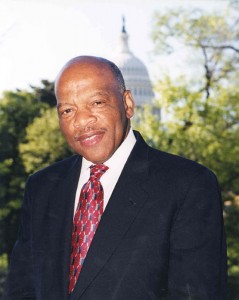 What: Panel Discussion/Forum
Topic: "Redistricting and the Continued Relevance of Section 5 of the Voting Rights Act"
When: Monday, August 8, 2011
 Time: 6 pm to 8 pm
Where: Historic Ebenezer Baptist Church  407 Auburn Ave. Atlanta, Ga. 30312.
The panel will be moderated by Sally Yates – United States Attorney Northern District of Georgia,  Department of Justice.
The speakers will include:
Julie Fernandes  – United States Deputy Assistant Attorney General -Civil Rights Division, Department of Justice
GA Representative Stacey Abrams: Democratic House Minority Leader
Jerry Gonzalez: Director, Georgia Association of Latino Elected Officials
Judy Yi: Programs Director, Center for Pan Asian Community Services, Inc.
Bill Nigut: Southeast Regional Director of the Anti-Defamation League
Elisabeth MacNamara: President, League of Women Voters of the United States
Fred McBride, Ph.D: Redistricting Coordinator I Research Analyst, American Civil Liberties Union, Voting Rights Project
If you enjoyed this article, please consider sharing it!