Barr: Troy Davis merits clemency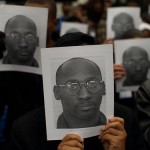 Former Republican US Representative and US Attorney Bobb Barr on Troy Davis:
I am a longtime supporter of the death penalty. I make no judgment as to whether Davis is guilty or innocent. And surely the citizens of Savannah and the state of Georgia want justice served on behalf of Officer MacPhail.

But imposing an irreversible sentence of death on the skimpiest of evidence will not serve the interest of justice. By granting clemency, the Georgia Board of Pardons and Paroles will adhere to the most sacred principles of American jurisprudence, and will keep a man from being executed when we cannot be assured of his guilt.
Let's all hope and pray that the Georgia Board of Pardons and Paroles does the right thing.
If you enjoyed this article, please consider sharing it!