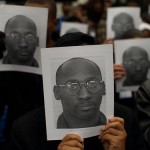 Troy Davis is currently set to be executed on September 21, 2011.
"Troy Davis has faced execution three times for a crime he may not have committed. In an unprecedented evidentiary hearing held in a federal district court in Savannah, Georgia in June, 2010, he was able to present evidence supporting his innocence claim. However, the standard for proving his innocence was "extraordinarily high", especially given the lack of physical and scientific evidence in his case. The federal judge ruled that he did not meet the high standard, despite the fact that doubts about his guilt remain unresolved. It is more important than ever that we continue to let Georgia authorities know that we oppose any effort to execute Troy Davis. Sign the petition today!
NOTE: Due to high volume of supporters, please keep trying to sign this petition if your initial attempt does not succeed."
If you enjoyed this article, please consider sharing it!