Of ships and sails and basketball court floor wax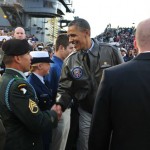 Last night over Catherine's shoulder in a bar, no this is not the beginning of a joke. I watched the President give a speech to 7,000 active duty service members, veterans, spouses/partners, basketball players and a worldwide TV audience. The President and First Lady were attending the first ever "Carrier Classic" College basketball tournament in honor of Veterans Day. As soon as I got home I checked this event out and seriously it looks pretty darn impressive.
Not being much of a basketball fan, I was more curious about the Carl Vinson, sure it's a aircraft carrier, a super carrier in fact. But how did it get its' name, why the USS Carl Vinson?
Here's why…
He was known as "The Father of the Two-Ocean Navy"
Carl Vinson D-GA served 26 terms, a total of 59 years in elected service.
He had several nicknames, the Georgia Swamp Fox and the Admiral.
During his tenure in the U.S. House, Vinson was a champion for national defense and especially the U.S. Navy and the U.S. Marine Corps.
He joined the House Naval Affairs Committee shortly after World War I and became the ranking Democratic member in the early 1920s.
In 1931, Vinson became chairman of the House Naval Affairs Committee.
He later was primarily responsible for additional naval expansion legislation, the Second Vinson Act of 1938 and the Third Vinson Act of 1940, as well as the Two-Ocean Navy Act of 1940.
Vinson oversaw the modernization of the military as its focus shifted to the Cold War. He was also committee chair, when Congress authorized the procurement of the first nuclear-powered aircraft carriers starting with the USS Enterprise in the late 1950s.
Until 1980 ships were only named after the deceased, Carl Vinson was not only alive when he received this honor but lived long enough to attend it's launch on March 15, 1980. He was 96. Thus far no one else has received this honor.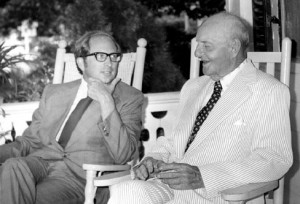 Carl Vinson had no children, but it appears that his interest in politics and military affairs was passed on to his grand-nephew, Sam Nunn of Perry, Georgia. In 1972, Nunn was elected to the United States Senate, where he served on the Senate Armed Services Committee for almost a quarter century. Until his retirement in 1997, Sen. Nunn followed "Uncle Carl" as a widely respected leader in maintaining a strong national defense for this country.
Love the seersucker! You can read more about Carl Vinson here.
I had a lot of fun with the videos folks have been posting all day about the Carrier Classic. Watching the players fold themselves into the bunks was painful, check out the Michigan guys on their tour.
Time lapse video of crew building the stadium and basketball court on the carrier deck.  *Cough* If you watched that video, I'mma just going to go ahead and say what you are thinking, yeah whoever picked that music has seen the inside of more than one gay bar. Good thing we repealed DADT.
Oh and who won? Duh, the TarHeels
If you enjoyed this article, please consider sharing it!