Congrats State Rep. Mary Margaret Oliver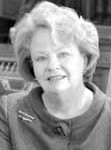 As I was perusing the Georgia House site (don't ask why), I found this bit of great news:
State Representative Mary Margaret Oliver (D-Decatur) has been appointed by the Georgia Supreme Court to its Committee on Justice for Children. Her two-year term began Saturday, October 1, 2011.

"The Committee on Justice for Children has done excellent work, and I am honored to be a part of it," said Rep. Oliver.

Rep. Oliver is a longtime advocate for child justice. During this year's regular legislative session, she sponsored House Bill 23, which would provide oversight for children in Georgia's foster care system that are prescribed psychotropic drugs. In past years, she has introduced legislation to improve Georgia's youth detention system and reform the juvenile justice system as well as legislation to decrease truancy and increase student attendance and school enrollment.

The Supreme Court of Georgia Committee on Justice for Children is comprised of 25 members. Formerly known as the Child Placement Project, the Committee was created by the Georgia Supreme Court in 1995 and is charged with ensuring stable placement for children in foster care. The Committee also works to assess and improve court proceedings involving abused and neglected children in Georgia.
If you enjoyed this article, please consider sharing it!