New book claims Richard Nixon had long term gay affair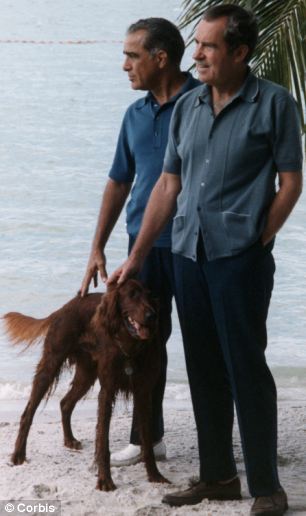 Interesting accusation, but it's almost pure speculation.

A new book claims America's most corrupt President hid a far more personal scandal
Yet the most extraordinary claim is that the homophobic Nixon may have been gay himself. If true, it would provide a fascinating insight into the motivation and behaviour of a notoriously secretive politician.

Fulsom argues that Nixon may have had an affair with his best friend and confidant, a Mafia‑connected Florida wheeler-dealer named Charles 'Bebe' Rebozo who was even more crooked than Nixon.
On Nixon's solo visits to Key Biscayne, they swam and sunbathed, indulging in their shared passions for discussing Broadway musicals and barbecuing steaks. In months, the pair were inseparable, holidaying with Nixon's wife Pat — and without her. Rebozo became an 'uncle figure' to the Nixons' two daughters, Tricia and Julie. The dapper Cuban-American chose Nixon's clothes and even selected the films he watched at the White House.
When Nixon became President, Rebozo got his own office and bedroom at the White House, and a security clearance that allowed him to go in and out without being logged by the secret service. Using a false name, says Fulsom, Rebozo even got into Nixon's hotel suite during a trip to Europe.
Rebozo was also reported to have stayed by Nixon's side during his last days and when Rebozo died in 1998, he left the bulk of his estate to the Nixon library. What do you think? Plausible situation or just an aging reporter cashing in on old rumors?
If you enjoyed this article, please consider sharing it!