Deal asks legislators to support Gingrich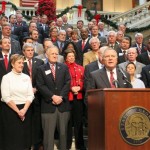 Or put another way, pot supports kettle.
ATLANTA (CBS ATLANTA) – Gov. Nathan Deal is urging state legislators to support Newt Gingrich's bid for president. In a letter to state Republicans, Deal encouraged legislators "to join me and many fellow Georgians in endorsing our next president, Georgia's own, Newt Gingrich."

He noted that Gingrich is leading the GOP field in many polls. Deal is Georgia state chairman of Gingrich's White House campaign. The two served together in the U.S. House and Gingrich
More from the AJC: Nathan Deal cheerleads for Gingrich
Video below the fold from the press conference today, if you can stand it.
If you enjoyed this article, please consider sharing it!