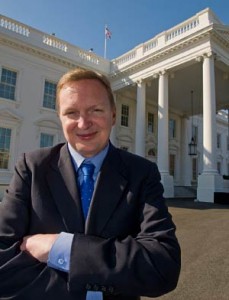 Jim Messina (pictured left), Campaign Manager for the Barack Obama 2012 campaign discusses the paths to 270 Electoral votes.
Although the President got 47% of the vote in 2008, clearly that wasn't enough for the campaign to include Georgia  in 2012. Unless you think there is a stealth plan that includes GA.
They will however, come here for probably a half dozen fundraisers, please don't confuse the two.
If we learned nothing from the 2008 campaign, once Team Obama makes a plan they will stick with it, and work it hard.
Let me pose this question: If someone from the campaign were to ask why they should make GA part of this plan, what pitch would you make, what reasons would you give? Remember this is a campaign team that is all about the metrics, so you need numbers and targets, not a bunch of touchy feelie  reasons why.
If you enjoyed this article, please consider sharing it!