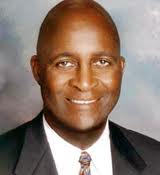 Sad news out of Macon today, as it was reported that former Senate Democratic Leader Robert Brown passed away today.  We are awaiting details, and will report them as they become available.
Please keep Senator Brown and his family in your prayers.
WMAZ coverage here.  Macon Telegraph coverage here.
UPDATE: All news sources are reporting Senator Brown died from a self-inflicted gunshot wound. We are deeply saddened by his passing. Our heartfelt condolences to his family and many, many friends.
UPDATE 2: A wonderful slideshow of images  throughout Brown's political career from macon.com.
UPDATE 3: The Democratic Party of Georgia has issued a statement.
If you enjoyed this article, please consider sharing it!