Stephen Colbert and the South Carolina GOP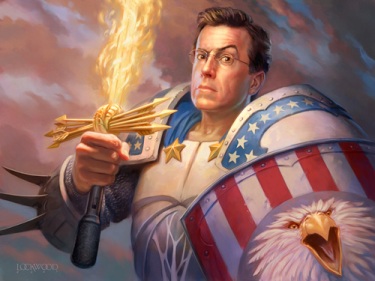 If you haven't been following this story, in a nutshell, it's a most elegant punk.
In exchange for a large monetary donation from Stephen Colbert's SuperPac (Making a Better Tomorrow, Tomorrow), the cash strapped SC GOP agreed to place a question on the state's GOP presidential primary ballot that asked voters to decide whether "corporations are people" or "only people are people."
The SC GOP agreed, but somebody got wise and the South Carolina Supreme Court ruled in November that all referenda must be removed from the primary ballot. The ruling came after the approved question made it on the sample primary ballot and on some military absentee ballots.
Colbert asked the SC GOP to challenge the ruling, but they refused. In response, Colbert turned to the Democrats and asked the Chairman of the South Carolina Democratic Party, the legendary Dick Harpootlian, to petition his state's Supreme Court for a rehearing of their ruling in Buford County v. S.C. Election Commission. Harpootlian has agreed.
On December 7th, Dick Harpootlian appeared on the Colbert Report. Video below the jump, along with a bonus Buddy Roemer video.
How Stephen Colbert Played the S.C. GOP
Trust me, this was a measure of last resort," said Colbert, Colbert Super PAC's Chairman and Gangwar Consigliere. "I've always thought Democrats had only one skill: simultaneously being atheists and holier-than-thou. But apparently they also have legal standing in this case.
After the citizens of South Carolina declare once and for all that corporations are people, we can move on to other urgent issues facing our great nation," Colbert said in a statement. "In 2016 I hope to include a question on whether Democrats are people.
If you enjoyed this article, please consider sharing it!