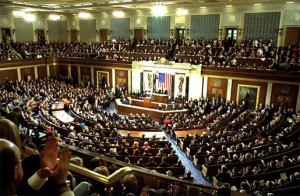 Join metro Atlanta area Democrats (everyone is welcome!) to watch the last State of the Union of President Obama's FIRST term.  We'll have drinking games, door prizes and lots of fun!  Gather at 7 PM for drinking, eating and conversation.  The address begins at 9PM.  Amsterdam has plenty of TVs for our viewing pleasure. C'mon down, it'll be fun!
WHAT: State of the Union Watch Party
WHEN: Tuesday, January 24th, 7PM-10PM (or so)
WHERE:  Amsterdam,  502-A Amsterdam Avenue, Atlanta  30306
WHO:  Sponsored by the Mid-Fulton Dems, everyone is welcome!
If you enjoyed this article, please consider sharing it!