Let's have a blast on Primary Night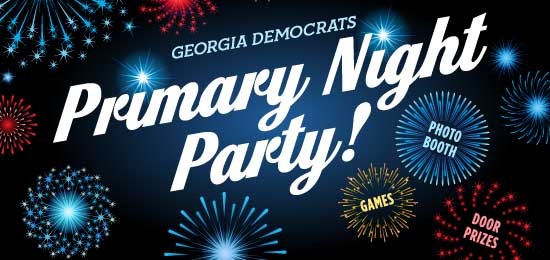 LET'S START CAMPAIGN SEASON OFF WITH A BLAST!
Come out and watch the Primary returns with other great Georgia Dems!
SPECIAL GUESTS INCLUDE:
Senator Steve Henson • Senator Vincent Fort • Senator Jason Carter
TUESDAY, MARCH 6, 2012 from 6:30-8:30PM
Democratic Party of Georgia
763 Trabert Avenue NW • Suite A
Atlanta, GA 30318
$25 to attend and the funds raised will go to
support our state-wide voter registration program.
TO RSVP PLEASE CONTACT
Charity Woods • charity@georgiademocrat.org or 678-278-2012 ext. 320
Or CLICK HERE to purchase tickets.
Every $25 (or more) donation via web will be included on the guest list for this exclusive event!
HOST COMMITTEE (in formation):
DPG Latino Caucus
DPG LGBT Caucus
Cobb County Democrats
Dekalb County Democrats
Fulton County Democrats
Fulton County Democratic Women
Gwinnett County Democrats
Young Democrats of Georgia
Jane Bradshaw
Ken Britt
Sheriff Thomas Brown
Doug Busk
T.J. Copeland
Ronnie Mabra
Red Clay Democrats
Emily Schunior
Rep. Keisha Waites
Nikema Williams
If you enjoyed this article, please consider sharing it!