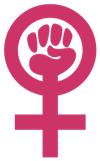 Today, March 8, is International Women's Day. Their site is very busy – about 1 out of 3 times I'm unable to connect.  That may be telling.
In watching the GOP wannabe's over the last year there have been several times that I've thought "Didn't we fight this battle 25 years ago?"  The Republican War on Women attempts to roll back much of what we've been fighting for over the decades.
You see, I am old enough to remember BEFORE Roe v Wade.  I remember the conversation with my then 45+ mother, afraid of an unwanted pregnancy.  I remember the talk of coat hangers and alleys.
I remember walking to Planned Parenthood (which at the time was on the "other side of the tracks" in my hometown) seeking healthcare and contraception, because I was embarrassed to talk to my very-cool, super-liberal, mother about "that stuff".
Just last night Georgia's Women Democratic State Senators walked out of the session in protest of the current war on women in our State Legislature.  Contraception, abortion, equal access to health care are on the GOP agenda.
I also remember marches, and protests!  Join an amazing coalition of organizations (listed below the fold) for Walk In My Shoes | Hear My Voice: A Unity March around the Georgia State Capitol on Monday, March 12, 11:00 AM- 1:00 PM.  11AM meet at First Presbyterian Courtyard; 11:30-1:00 March Single File around the Gold Dome.
All these folks stepped up.  Won't your join them?
If you enjoyed this article, please consider sharing it!