What You Need to Know About Convention 2012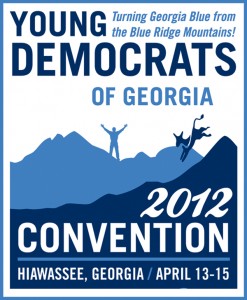 Young Democrats of Georgia's Annual Convention, "Turning Georgia Blue from the Blue Ridge Mountains," is fast approaching!  This year, we will be convening at The Ridges Resort and Marina in Hiawassee from April 13-15.  This year's event promises to be one of the best in years, and we want to invite you to be a part of the fun!
This year's event will feature incredible panels, trainings, and speakers, including YDGU and BLUE Georgia Training Academy.  Representatives from the OFA, the Georgia Budget and Policy Institute, Planned Parenthood, and the Georgia Rural Urban Summit will be participating as well.  A full schedule can be found here.  All trainings and panels are free and open to all Democrats!
We will also have Former Mayor Shirley Franklin headlining our Luncheon at noon, which will also feature Rep. Stacey Abrams and Sen. Steve Henson.  This is a ticketed event, and tickets can be purchased by visiting this link.  Sponsors and YD attendees need not purchase an additional ticket.
We also invite everyone to join us in sponsoring Convention, which not only helps us put on an incredible event, but also helps Young Democrats of Georgia's many programs, which you can read about in our Donor Packet.  Sponsors (like Blog for Democracy!) receive incredible benefits, like ads in the program, sponsor tables (which are great for campaigns!), and tickets to all events!  To contribute, please visit ActBlue.  Of course, one of the best ways you can help is to Sponsor A YD to attend (Juliana Illari did it, so you should too)!
If you are a Young Democrat (aged 14-40), and have not yet registered, it's not too late!  Visit the Registration Page to sign up!
If you have any questions about Convention, never hesitate to contact me.  My email is evp@georgiayds.org.
If you enjoyed this article, please consider sharing it!