What you can get me for my birthday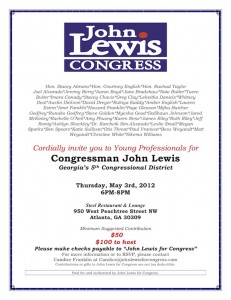 Next Thursday, May 3, is my birthdayversary.  By that I mean I will be celebrating 24 years of life on this Earth and 3 years with the most fantastic woman in the world.  And, given that it is a special day for me, I feel like all of you should get me something.
So, with that in mind, I'm asking all of you to attend Young Professionals for John Lewis at Steel Restaurant on May 3.   It promises to be a fantastic event for a fantastic Congressman.
If you enjoyed this article, please consider sharing it!