Nobody died and we had a pony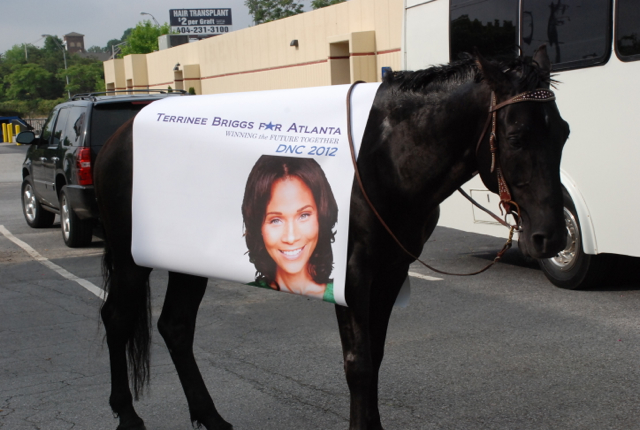 Conducting the Delegate Selection Caucus in the 5th District is always a challenge, and Saturday was no exception. Thanks to the organizing prowess of 5th CD Chair Catherine Smith, along with her team of rock star volunteers, the event was a huge success. With few exceptions, caucus goers were in good spirits and polite. There were 77 candidates who qualified for 7 delegate slots and around 800 attendees. It wasn't quite as large as the Historic 2008 5th District Caucus™ organized by Page and I, but it came close. And now it's done, and well done Catherine. That's the good news. Now for the bad.
What follows should not reflect negatively on any Congressional District Chair, or even the Democratic Party of Georgia. It should however reflect negatively on the DNC, whose rules for delegate caucuses are outdated and easily gamed. The executive summary is that it's a hot mess that needs to be completely rethought before 2016.
As it stands, these caucuses aren't for rank and file Democrats and that's a shame. Every four years, the same cast of characters (young and old) comes out of the woodwork to steal the show. Most of the new ones are all about Obama and have never stepped foot in a party meeting. Most of the old ones are all about themselves and rarely step foot in a party meeting. They have little or no connection to the party, so why they all want to go to convention is a mystery. For whatever reason they do, and with a passion. Maybe it's because they've seen it on TV. Who knows.
What should be a unique opportunity to build the party every four years is anything but. Instead of a well deserved reward for 4 years of party service, or a means to engage new Democrats, delegate slots effectively go to the highest bidder. It's hard to imagine how the process could be less democratic. Case in point.
THE TROUBLING CASE OF C.T. MARTIN
As he did in 2008, Atlanta City Councilman C.T. Martin rolled in with 3 motor coaches stuffed with Senior citizens. Many were frail or of advanced age (one woman was 97). Some seemed confused about why they were there, and several asked "When do I vote for Obama?" Many had difficulty walking or even standing, so special provisions had to be made to get them into the hall and seated.
It was a worrying sight and I couldn't help wondering if their families knew they were there. If not, I doubt they would have approved.
Only 3 support staff (that I counted), accompanied over 200 Seniors. They brought food and water (C.T. buys them all lunch), but Martin staff often seemed more concerned with the Senior's paperwork, than with their care and safety. Unfortunately, that responsibility fell somewhat on our party members. One of our long time Fulton Dems ended up escorting dozens of frail Senior men in and out of the restroom all day, at the specific request of a female Martin staffer. Thanks a pant load C.T.
Not to be too descriptive, but the condition of the women's room was worse. There was only one ADA stall (as per code), with hand railings needed by aged people. With over 100 Senior women in the hall, the other stalls were used by necessity. In short, both Seniors and others who used the facilities were put at risk.
When one of the Senior women collapsed and had to be carried from the hall, thankfully two physicians were at the caucus. As far as I know, no nurses or doctors accompanied the Martin campaign, nor was there an ambulance on-site in case of emergency. The fact that no one died or was injured during the caucus doesn't mean it wasn't a dangerous situation.
As far as I know, C.T. Martin and his fellow slate members broke no caucus rules, but they did exploit loopholes that should be closed. For all I know, the Councilman is genuinely popular in his district, since he's been re-elected a number of times. However, given his tactics, one wonders exactly who is serving whom. After watching the vote count for only a few minutes, it was clear the Seniors were given specific voting instructions. Ballot after ballot contained only the 4 people listed on the Martin slate, even though voters could have chosen up to 7 candidates.
For his part, C.T. Martin was rude and confrontational. When told that the hall was at capacity, he responded by yelling at Catherine. Having already bused in 200 people, he claimed to have 3 more buses on the way and demanded to know what she intended to do about it. A solution was reached, but thankfully they never arrived.
Of the 77 candidates who originally qualified, only half came to the podium to speak. No doubt others were discouraged by the obvious set up. Of the 7 candidates elected, 6 were African-American and two were elected officials. If this had happened organically, it would have been a good thing. It did not and does not accurately reflect the diversity of the 5th District or the inclusive nature of our esteemed Congressman.
THE DELIGHTFUL CASE OF TERRINEE BRIGGS
Like C.T. Martin, Terrinee Gundy Briggs pulled out ALL THE STOPS in her bid for delegate, but unlike C.T. Martin, she did it the right way. As one of only 3 people not on the Martin slate who won, she earned votes with charm, spirit and a whole bunch of goodies. Terrinee had an over the top presentation that included: a RV, huge spread of delicious food, a DJ, toys for kids, pretty young volunteers in t-shirts, and a pony carrying her banner. Yes, a pony. She calls it a stallion, but to us 2012 will always be the year of the pony.
In any fair election, Terrinee would have been the top female vote getter instead of last to make the list. While this level of expenditure shouldn't be necessary, she shouldn't be dinged for it either. It was excessive yes, but it was all in good fun. She made a positive impact and enlivened the caucus. She won fair and square.
I don't know her, but was impressed by what I saw. Terrinee seems like exactly the sort of Democrat we need to attract to the party: a young, professional, energetic, and spirited woman. She worked hard and deserves to represent us at the convention. Others, not so much.
WHO PAYS?
Part of what rubs party people raw about caucus rules is something most people don't know. These caucuses are organized and conducted by state and county party members who also foot the bill. The DNC and DPG provide zero funds, so CD Chairs are expected to raise their own funds or cover it out of pocket. The cost for this year's 5th CD caucus was almost $3,000. As in previous years, it falls to party members as individuals to help out. If we don't come through, the same woman who got yelled at by C.T. Martin, also gets stuck with the tab. Thank you sir, may I have another?
In 2008, we didn't have venue fees, but Page and I covered all other expenses. This is an "off the books" contribution since there's no way to submit an in-kind form or even write it off on taxes. I tried to submit an in-kind form to the DPG in 2008, complete with receipts, but it was never posted. Whatever. This level of expense should not be a condition of serving as a Congressional District Chair or Vice Chair with the DPG, especially given everything else on their plates.
Who should pay? The most logical answer would be the delegate candidates. Don't want to join the party? Fine, but you don't get a free ride. If candidates can afford to spend thousands on buses, lunches, toys, games, DJs, signs, and every other thing, they can certainly afford a modest qualifying fee. If the 77 candidates in the 5th District had been required to pay a $35 qualifying fee (the same as Fulton Dems pay to qualify as voting members), this would have covered 90% of the cost.
An alternate, but less acceptable, approach would be to charge an entry fee to vote. If the 800+ attendees were required to pay $5 to vote, we would have easily covered expenses. This would also eliminate, or at least curtail, candidates gaming the system. They would have to earn their votes fair and square. BTW, none of these issues are restricted to the 5th and none of them are new. It's the same in every Georgia Congressional District only on a smaller scale, and apparently always has been.
NEXT THINGS NEXT
If I'm still around in 2016, more than likely I'll be involved in the caucus again. If Hillz runs, I'll be all up in the mess. However, between now and then, the rules must change to prohibit busing and "pay for play" voting. In addition to being counter productive as party policy, it's only a matter of time before someone gets hurt or dies on site. The current level of exposure should be unacceptable to the entire DPG Executive Committee, provided they were still permitted to speak. As well, elected officials should only be allowed to run in the At-large or PLEO elections.
Otherwise, we might as well start planning right now to hold the 2016 caucus at the Senior high-rise. At least that will ensure these citizens will be safe from harm, but more so, safe from those who would exploit them for their own selfish purposes.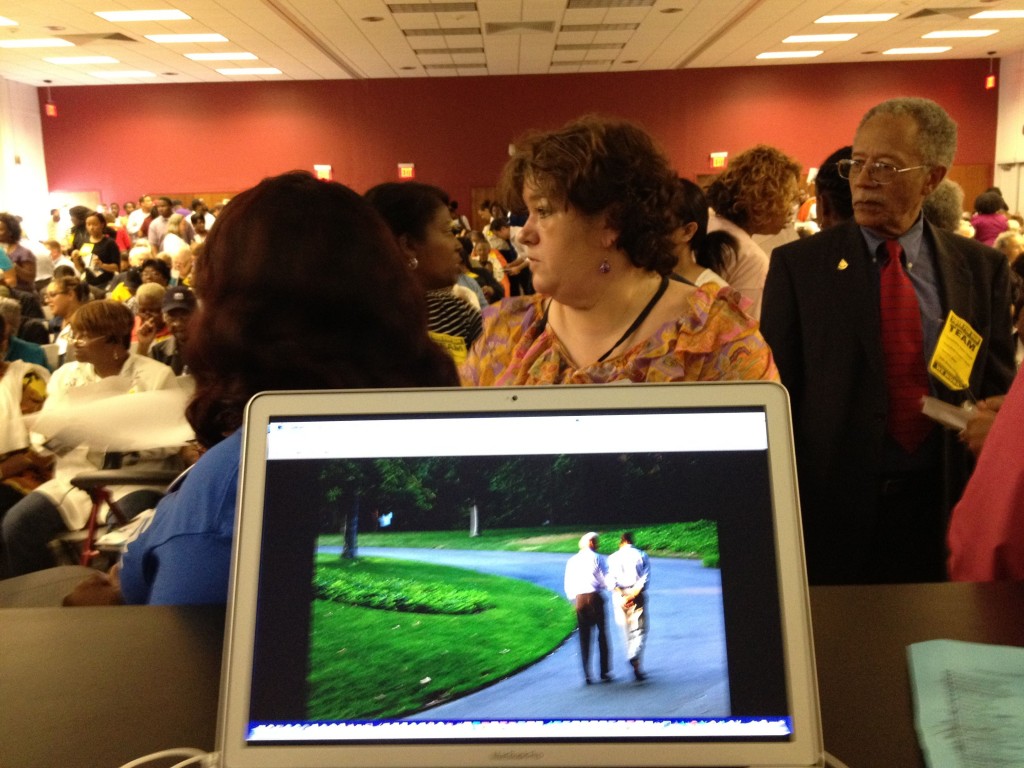 If you enjoyed this article, please consider sharing it!